Full dectet plus Baladino (vocals, multi-string, multi-wind, percussion)
Fifth House Ensemble, Mediterranean folk band Baladino, and 2014 Rome Prize-winning composer Dan Visconti have come together to create and present Nedudim, a genre-defying, evening-length suite of concert works rooted in Middle Eastern, European, and American folk music. Co-created with a diverse group of cultural organizations across Chicago representing Israel, Spain, Iran, and India, this performance experience taps into the shared experience of musical memories and serves as a catalyst for an exploration of music as an indelible part of cultural identity.
Performance Video:
In all aspects of the performance, down to the childhood stories told between pieces, Baladino and Fifth House inhabited a new musical and cultural landscape that was somewhere between their lived experiences and ancestry. Even more amazingly, they did so…with a refined, cohesive, and energetic musical statement that brought the audience to their feet.
– Justin Rito, I Care If You Listen
Get the Album:
Nedudim
Cedille Records (2016)

For Your Consideration at the 2017 GRAMMY Awards
Nedudim is submitted to four categories in the 2017 GRAMMY Awards:
Best Classical Compendium
Best Contemporary Classical Composition (Dan Visconti)
Producer of the Year, Classical (Steve Rodby)
Best Engineered Album, Classical (Bill Maylone)
Program:
Si Veriash a la Rana/Noches Noches – Traditional, arr. Baladino/Dan Visconti
Black Bend – Dan Visconti
Greek Blues (world premiere) – Baladino/Tomer Moked
Tzur Mishelo – Traditional, arr. Baladino/Dan Visconti
La Esklava – Traditional, arr. Baladino/Dan Visconti
He's Gone Away from Mountain Songs – Robert Beaser, arr. Dan Visconti
Traveling Music No. 4: III – Kenneth Benshoof
Raga Etude (world premiere) – Baladino/Tomer Moked
Native Tongues (world premiere) – Dan Visconti
Tres Ermanikas Eran – Traditional, arr. Baladino/Dan Visconti
La Kumida – Traditional, arr. Baladino/Dan Visconti
Past Performances:
Nedudim at Instituto Cervantes
Friday, April 17, 2015, 7:00pm
Instituto Cervantes, 31 W Ohio St
Chicago, IL 60654
$20 General Admission/$15 Students
Capacity: 159
Nedudim at Mayne Stage
Monday, April 20, 2015, 7:00pm
Mayne Stage, 1328 W Morse Ave
Chicago, IL 60626
$25 VIP/$15
Capacity: 150
Nedudim at DePauw University
Saturday, April 25, 2015, 7:30pm
DePauw University, Kresge Auditorium
Greencastle, IN 46135
$15 General Admission Doors/$10 General Admission Adv/Free for Students & Seniors
Capacity: 1,400
Nedudim at Concordia University at Ann Arbor
Sunday, April 26, 2015, 7:00pm
Concordia University at Ann Arbor, 4090 Geddes Rd
Ann Arbor, MI 48105
Free
Capacity: 200
Nedudim at Old Town School of Folk Music
Thursday, September 22, 2016, 7:30pm
Old Town School of Folk Music, 4544 N Lincoln Ave
Chicago, IL 60625
$25 General Admission/$23 Members
Capacity: 250
About Baladino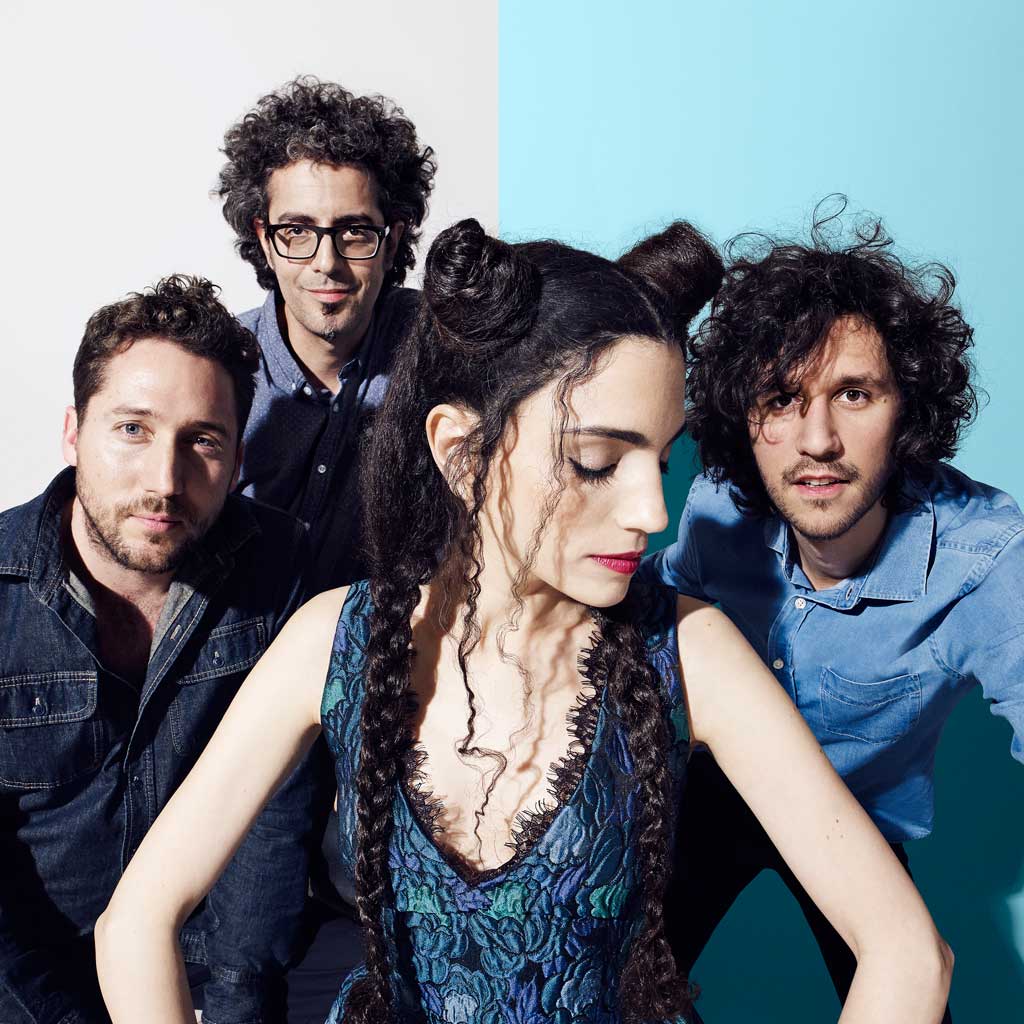 With its members hailing from Berlin and Tel Aviv, Baladino is a Mediterranean folk band that offers fresh, yet deeply authentic interpretations of traditional Jewish Sephardic and Ladino (Judeo-Spanish) melodies. The group brings together instruments and traditions from the wide span of cultures that fed into this musical language historically, updating it with their own youthful energy and contemporary backgrounds in jazz improvisation and electronica. They bring their classical training and expertise in electronica and sound manipulation to their interpretations of ancient melodies and rhythms. They are not strangers to collaborating with musicians of multiple disciplines across a wide distance.
Baladino is currently touring internationally, presenting concerts and workshops at venues and educational institutions throughout US Midwestern states. Embracing the old and the new, members perform on instruments both ancient and modern. They have made names for themselves collectively and individually in traditional settings, such as Israel's Cameri Theatre, and via their individual YouTube channels boasting millions of views.
For more information, visit www.baladino.com
Debut album available at http://baladino.bandcamp.com/